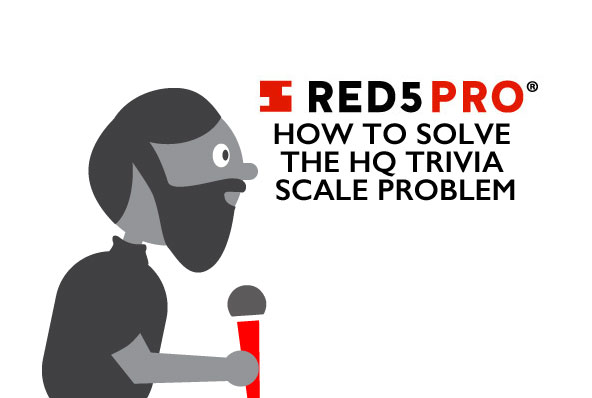 Turns out, getting noticed is only half the battle. The extraordinarily popular quiz game HQ trivia has experienced explosive growth. Good for them, right?
Here's the problem: The game hinges upon thousands (and now millions) of users interacting and competing with each other in real-time.
Players are given 10 seconds to answer questions (So no Googling, cheaters), making every second count. Sound familiar? Turns out all those extra users are detrimental to the players'experience. As the New York Time's Amanda Hess stated,
Players are regularly booted from the game without explanation. The live host's face is frequently obscured by the wheel of death. Sometimes, the whole game is scrapped for mysterious technical reasons — including one high-stakes game scheduled for 11:45 p.m. EST on New Year's Eve, which was unceremoniously aborted, then rescheduled for 45 minutes later. [source]
Of course, players have taken notice. Twitter users had a few things to say.
From classic, capslock rage:
@hqtrivia PLEASE GET YOUR SERVERS READY FOR 1.6 MILLION PLAYERS. IT KICKED ME OUT AND THEN I WAS ELIMINATED FROM THE GAME AFTER Q1. It's not even fun anymore, just stressful now wondering if it's going to lag or not.

— Callie (@cgirlcal) January 22, 2018
To well described complaints:
@hqtrivia why isn't there an option to not use an extra life? I was experiencing extreme lag, the question game up late and I didn't get a chance to answer and it used my extra life!

— maisaja (@robustgirlsgar) January 22, 2018
And the always dependable gif:
Maybe if your app didn't lag as much, I would have continued but you kicked me out at Q3 when I got it right. pic.twitter.com/iisRXnxqFk

— Howie Yohannes (@HowieYohannes) January 22, 2018
Users have even gone so far as to nickname the debonair emcee Scott Rogowsky, "Lag Dadddy":
It's a #lagdaddy kind of night at @hqtrivia pic.twitter.com/GRUVbAecEU

— Greg Swan (@gregswan) January 22, 2018
All this goes to show that it's not enough to just attract users, you have to be able to scale. More than that, you have to do it all in real-time. Everybody needs the same 10 seconds to answer the questions, otherwise, it's unfair, unfun and will soon turn unpopular.